COVID-19
COVID-19
Thursday 23 April 2020 - Updated on Thursday 25 June 2020
Coronavirus pandemic: Transmission of the virus, clinical facts, laboratory-based diagnosis; case fatality, treatments, vaccines and questions.
Coronavirus pandemic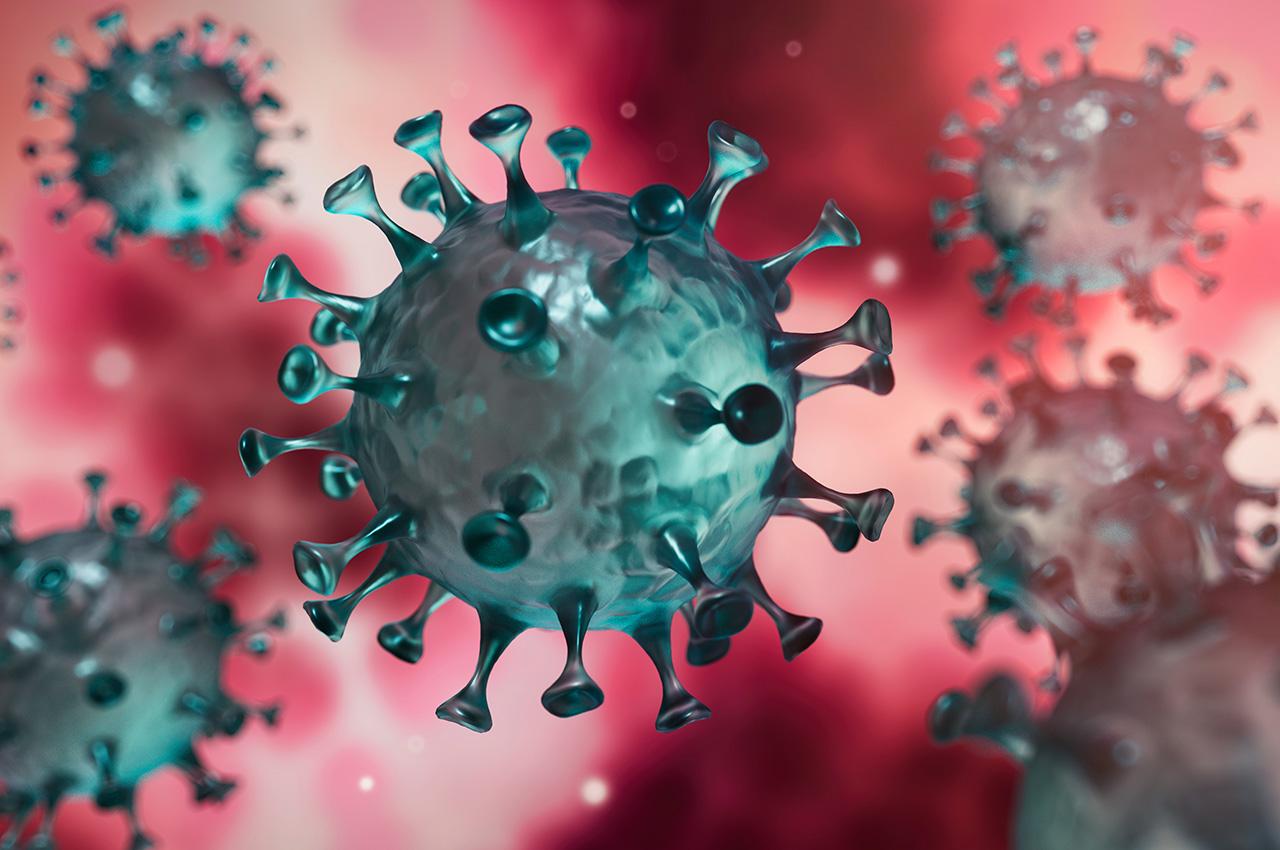 The current pandemic is the result of a coronavirus identified in December 2019 in the city of Wuhan, in Hubei province (China), officially called SARS-CoV-2.
 
This virus causes a disease called Covid-19, characterised by respiratory symptoms ranging from a simple cold to severe acute respiratory syndromes. The spread of Covid-19 led the World Health Organization (WHO) to declare it a Public Health Emergency of International Concern (30 January 2020), then to recognise it as a pandemic (11 March 2020). As of mid-April, there have been 2 million cases and more than 120,000 deaths worldwide.
Transmission of the virus
SARS-CoV-2 is spread from human to human through the air (via droplets produced when coughing, sneezing or talking) and through physical contact like kissing. It may also be transmitted via contact with a contaminated object, e.g. through a handshake or touching a contaminated surface. A distance of at least one metre between two people appears adequate for preventing transmission; as a precautionary measure, a distance of two metres or more is sometimes recommended or required. The cleaning of contaminated surfaces is also a protective measure.
The virus can survive for between two and three hours in dry environments, and for varying durations on different materials. The virus is highly contagious. The R0 is currently estimated at 2.5, i.e. one infected person can contaminate 2.5 non-immune people.
Clinical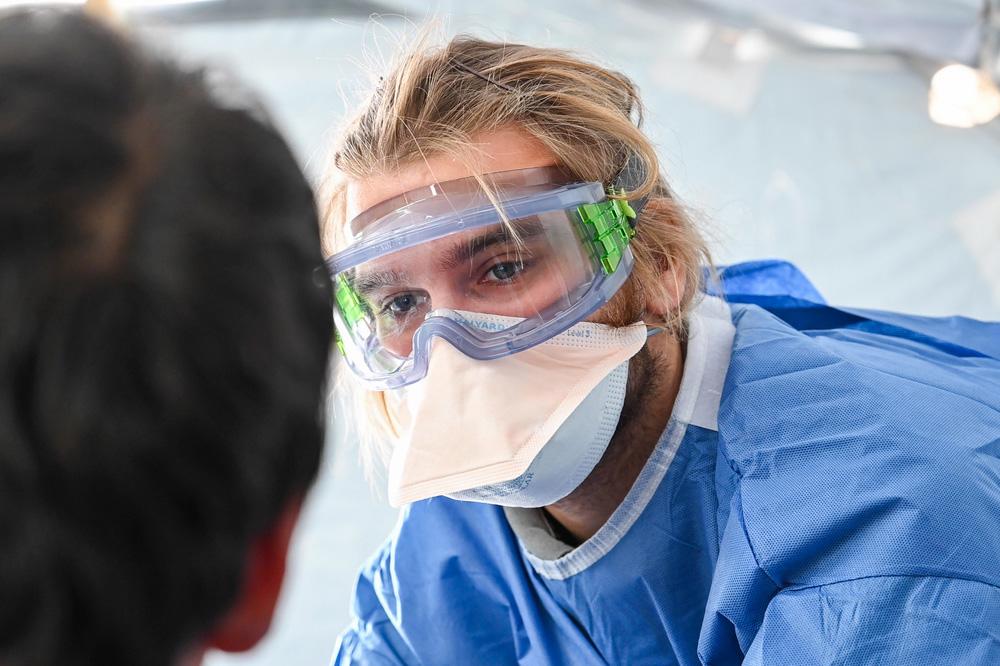 The average incubation period is five days, with the range being two to twelve days. Early symptoms are non-specific: headache, muscle pain and fatigue. Fever and respiratory signs appear later, often two to three days after the onset of early symptoms.
On average, there is one week from the onset of symptoms to the appearance of initial signs of severity, most often requiring hospitalisation. 
At this stage, symptoms comprise fever, cough, chest pain and difficulty breathing. It is estimated that approximately 20% of patients are hospitalised, 5% of whom are admitted to critical care units. The most serious forms are observed in people who are vulnerable due to their age (over 70 years) or comorbidities (high blood pressure, heart failure, respiratory failure, diabetes, obesity, etc.).
Studies have shown that the infection may be asymptomatic or relatively mild in 30 to 60% of those infected.
Laboratory-based diagnosis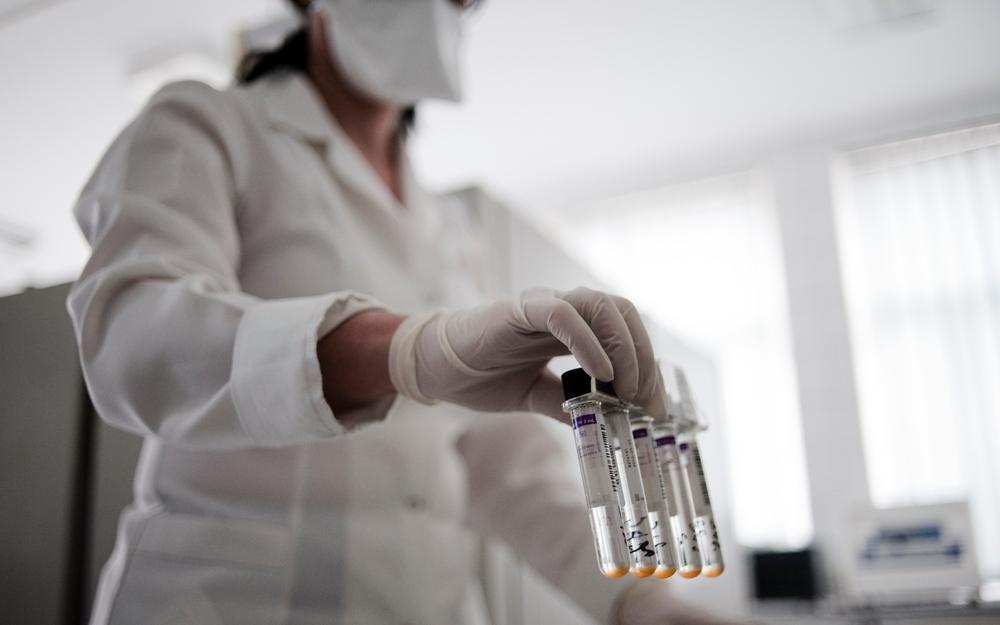 Diagnosing Covid-19 uses PCR (polymerase chain reaction), a technique which allows on the qualitative or quantitative detection of genetic material from the virus. With PCR, a fragment of viral RNA can be used to obtain several million identical copies of the same fragment, thus making it detectable.
Nasopharyngeal swabbing is used to collect samples. Results are available after four hours. Researchers are currently developing serological tests in order to measure a patient's immune response to the virus. These tests have not yet been validated and are not yet widely available. They will make it possible to identify patients with antibodies to the virus and to estimate the immunity of a population.
Case fatality
Case fatality: proportion of deaths compared to number of confirmed cases
The first case fatality evaluation was published on 14 February by the China CDC (Center for Disease Control and Prevention) on the basis of the first 44,672 confirmed cases. At this time, it was estimated at 2.3%. 
Case fatality varies according to patient management and access to hospital care and therefore differs from country to country. At a global level, the WHO estimate of 3 March 2020 was approximately 3.4%.
Treatments
Management is currently symptomatic, taking the form of antipyretics for fever (paracetamol), rehydration, and oxygen therapy or artificial ventilation in critical care units for serious cases. To date, no treatment has been proven significantly effective. Hundreds of clinical trials are taking place across the world.
WHO recently launched the SOLIDARITY trial, comparing four treatments: antiviral drugs (remdesivir, lopinavir with ritonavir, interferon beta) and an antimalarial (chloroquine and its equivalent hydroxychloroquine). This trial is expected to include thousands of patients across several countries. 
Epicentre is part of an international coalition of 70 institutions aiming to accelerate clinical research in resource-poor countries.
Vaccines
According to the European Medicines Agency (EMA), it may take at least a year for a vaccine for Covid-19 to be ready for authorisation and available in sufficient quantities to allow general use. The European Commission is supporting a project bringing together 300 hospitals and 900 laboratories. A total of 115 candidate vaccines are being or have recently been investigated, with five currently in clinical development. The CEPI (Coalition for Epidemic Preparedness Innovations) international coalition is funding several projects, including one led by Institut Pasteur as part of a consortium with Themis and the University of Pittsburgh that uses the measles vaccine as a vector. 
Several teams of researchers are investigating the antituberculosis BCG vaccine; Covid-19 appears to take a less serious form where there is significant BCG coverage. People who have been vaccinated against the BCG are not immune to SARS-CoV-2 but are less at risk of developing a serious form of the disease. Institut Pasteur de Lille aims to implement a vaccine trial to verify this hypothesis. This trial must follow up on participants for two to three months in order for the data to be reliable.
An American biotechnology company, Moderna, is testing its first vaccine for the novel coronavirus, called ARNm-1273. The results will not be available for 12 to 13 months. 
In China, the first clinical trial has been started to test a vaccine on 108 volunteers, all from Wuhan, where Covid-19 first appeared. Volunteers between 18 and 60 years old received a first injection on Friday 20 March. They will be observed for the next six months.
Questions & Answers
Many scientific questions are still outstanding.  This is an emerging virus, and the immunity it causes in humans is far from being fully explored. Neither the effectiveness of acquired immunity nor its duration is known. The mechanisms of evolution towards disease severity are being studied, as well as the vulnerability of certain patients (age, co-morbidities, etc.). Questions are being asked about the tools available or to be developed. Some elements below (updated on 2/06/2020)
Epicentre publication
From China: hope and lessons for COVID-19 control.
Journal Reference:
The Lancet. Infectious diseases 2020 Apr 03; (); Array. doi: 10.1016/S1473-3099(20)30264-4. Epub 2020 04 03
Serology for SARS-CoV-2: Apprehensions, opportunities, and the path forward.
Journal Reference:
Science immunology 2020 05 19; 5(47); Array. doi: 10.1126/sciimmunol.abc6347. Epub 2020 05 22
See all
Epicentre contribution in the press
See all