Q&A - Diagnostic tests
Q&A - Diagnostic tests
Wednesday 3 June 2020 - Updated on Friday 19 June 2020
There are two different approaches to diagnosis, referred to as 'direct' and 'indirect' methods.
Covid-19: what types of diagnostic test are available?
There are two different approaches to diagnosis, referred to as 'direct' and 'indirect' methods. 
Direct methods show the presence of the virus or one of its component parts (RNA or a surface antigen (Ag)) in nasopharyngeal samples or lower respiratory tract samples. This tells us whether or not a person is infected (regardless of whether they show symptoms). Indirect methods detect the host's immune response to the virus in their blood, revealing whether the person is or has been infected and has produced antibodies.
These diagnostic approaches have been developed in various forms: 
"PCR" molecular tests (reverse transcriptase Polymerase Chain reaction; RT-PCR) to detect the RNA of the virus via either automated platforms in reference laboratories or point-of-care testing (e.g. GeneXpert), carried out using nasopharyngeal or lower respiratory tract samples. 
 
Antigen tests: in the form of disposable rapid diagnostic tests (RDTs) with naso- or oropharyngeal swabs.  
 
Serological tests: these tests use blood samples to detect the humoral immune response post-infection (detection of IgM, IgG and potentially IgA antibodies). 
 
They can be automated tests (e.g. enzyme-linked immunosorbent assay [ELISA]) or disposable RDTs. ELISA tests require a laboratory, contrary to RDTs. However, the latter have not yet been validated for finger-prick blood samples. 

Testing costs 
The cost of a PCR test is between EUR 15 and 25 depending on the methods and purchase volumes involved, covering only the price of reagents and consumables (excluding sampling materiel, e.g. swabs). A rapid test is between EUR 3 and 10, while the cost of the cartridge for a GeneXpert test is around USD 20. The list of all RDTs and tests commercially available can be consulted here.
How and when to use each test
The World Health Organization (WHO) currently recommends RT-PCR tests for diagnosing infection in the acute phase, although their sensitivity is estimated at 70 to 80%, i.e. 20 to 30% of results are false negatives, mainly due to the variability of sample quality. 

WHO recognises that it may be necessary to prioritise people to be tested depending on health objectives, intensity of transmission, number of cases and laboratory capacity. 

WHO has defined four transmission scenarios: no cases, sporadic cases, clusters of cases and community transmission . While the strategy is to test all suspected cases in the first three scenarios, for areas of community transmission and in areas with low screening capacity, the strategy is to prioritise testing for the early identification of cases and the protection of vulnerable patients and health care workers. All other individuals with related symptoms in a closed setting can be considered probable and isolated cases without additional testing if screening capacity is limited.  
The value of antibody tests for the early diagnosis of Covid-19 is very limited as antibodies only appear in the patient's blood several days after infection (median D10-12 after onset of symptoms).
  
Furthermore, antibodies remain in the body for a time after symptoms have disappeared. These tests do not give a definitive answer as to whether the SARS-CoV-2 virus is present, and thus cannot be used to assess whether or not the person tested is contagious. Various authorities therefore do not recommend the use of serological tests for diagnosis (with certain exceptions such as cases with a compatible clinical presentation and negative RT-PCR with symptoms for 7-15 days). 

However, serological antibody tests can be useful for carrying out large-scale sero-epidemiological investigations on a population, for example, at a collective level to evaluate the proportion of infections with mild or no symptoms and, at an individual level, with a view to easing lockdown or personal protective measures for people who have already been infected, if (as is still unclear) they are not at risk of becoming ill again. 

Rapid antigen tests are not yet recommended for diagnosis of Covid-19 in the acute phase. Their value is still being assessed, as is the possibility of cross-reactions with other respiratory viruses. Should any of the antigen detection tests commercially available prove to be sufficiently effective, it could be used as a triage test to rapidly identify patients highly likely to be infected with Covid-19, reducing the need to use expensive molecular confirmation tests, which are difficult to access in LMIC.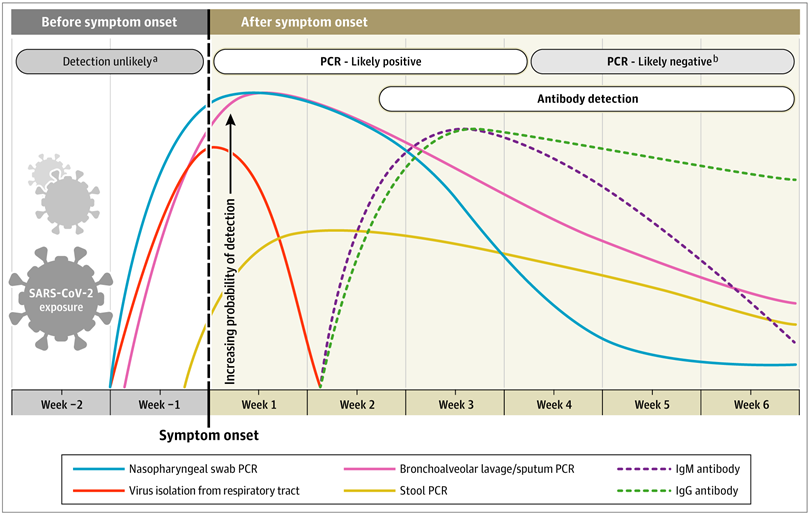 As these tests are likely very specific (few false positives) and not very sensitive (many false negatives), it may be possible to carry out PCR only in case of negative antigen RDTs, which would reduce the number of PCR and thus the waiting time for confirmatory results. The value of this strategy has not yet been confirmed. 

What is the ideal test for Covid-19? There is no perfect diagnostic test for Covid-19. There is a need to define the characteristics and performance (sensitivity, specificity) of the tests that are commercially available, so as to understand their strengths and weaknesses and include them in specific protocols for use that define an epidemiological context, a target population, and a method to be applied, which may include the sequential use of several different tests in order to adapt to operational requirements while ensuring appropriate, consistent management.
Regulatory approval of Covid-19 diagnostic tests
Other than CE marking, which is self-declared for this type of test , the FDA  and WHO  have established a programme to grant emergency use authorisations for certain tests. Currently, only molecular tests have been approved by both bodies; in addition, the FDA has approved three rapid serological tests. WHO is in the process of selecting rapid serological tests. It should be noted that these authorisations are based on the review of a file prepared by the manufacturer, with no requirement for independent evaluation.

Independent evaluation of rapid serological and antigen tests 
These evaluations are essential for assessing how the tests perform on clinical samples in order to choose the best tests for inclusion in protocols for use. Several international institutions, including FIND, are participating in these evaluations. 

Ideally, practical applicability should also be evaluated on the ground, with users and populations, in order to understand how the test will work 'in reality'. 

Serological RDTs have not been formally evaluated with capillary blood (finger-prick). This evaluation is essential as these tests will ultimately need to be used (particularly in low-income countries) in peripheral facilities, at point of care or at home, probably by non-specialist officials.
Which diagnostic strategy should be adopted, particularly in Africa?
The decentralised use of PCR tests is essential for confirming suspected cases. However, these tests require expensive equipment, and trained and experienced personnel. It is therefore often necessary to send biological samples to a central (regional or national) reference health facility, as these are the only facilities able to carry out the tests. Restrictions and supply problems for reagents and consumables are also found in many countries. 
These limitations mean that the current standard molecular approaches are unsuitable for decentralised, large-scale use in an epidemic for the triage and rapid, reliable diagnosis of the population in question. Automated point-of-care systems (e.g. GeneXpert) can improve access to molecular case confirmation tests, particularly in rural areas. However, there is still the issue of the safety of the personnel handling samples for testing. 
If one or more rapid antigen tests (not yet recommended for diagnosing Covid-19 in the acute phase) became available and were approved, they could be used as a first-line choice for the triage and diagnosis of suspected cases. If their sensitivity is confirmed to be relatively low (risk of false negatives), a PCR test would then be required for all negative test results.  

Rapid antigen tests could be used on-site and in a decentralised manner - i.e. in triage centres and outside the hospital, by trained but non-specialist personnel, 24/7 and using nasopharyngeal samples. They could provide results within 15 minutes, contributing to a rapid patient flow. 

A total of 13 Covid-19 antigen RDTs and over 120 antibody RDTs are commercially available with CE-IVD marking, but none have yet been validated by means of large-scale, independent quality evaluation.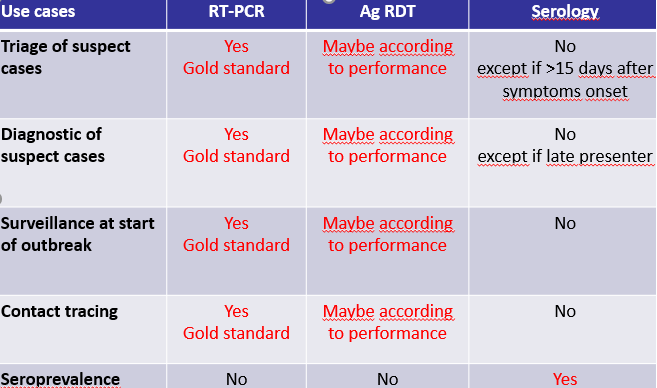 Serological tests (currently using ELISA) can be used for collective epidemiological investigations, to evaluate the a posteriori prevalence of the viral infection and the proportion of people infected who were asymptomatic. However, more information is needed on the correlation between immunity and protection and how long protection lasts in order to interpret these epidemiological investigations in terms of population protection or risk of reinfection. A highly specialised analysis using viral culture (neutralisation) can quantify neutralising antibodies and thus shows whether the person tested has these antibodies to prevent reinfection.

Given current knowledge, there is a need for additional studies to confirm that a person who is immunised is protected (antibody threshold and duration) and that high-throughput ELISA serology techniques correlate with the quality of antibody protection.
Epicentre activities
 France: Epicentre is working with the AP-HP (Paris hospital and university centre) and the Henri Mondor and Bicêtre hospitals in Créteil and Kremlin-Bicêtre respectively to evaluate several rapid antibody tests, including one supplied by MSF, and two rapid antigen tests supplied by MSF. The objective is to reinforce the retrospective evaluation methodology versus other studies - evaluations of characterised patient samples (clinical data) with an adequate sample size - and define a protocol. Results are expected by the end of May.
 
Cameroon:  Collaboration with the Institut Pasteur to evaluate several rapid tests; a protocol was submitted at the end of April for approval by the national ethics committee.

Niger: evaluation of several rapid tests as part of a clinical trial on early treatment with lopinavir/ritonavir in collaboration with the Ministry of Public Health (protocol validated by the local ethics committee).
  
Other: Preparation of general protocols for evaluating RDTs in countries with limited resources.