our achievements
HIV/AIDS
HIV/AIDS
Monday 11 March 2019 - Updated on Wednesday 28 December 2022
Important advances have been made, but the problem is very far from solved.
Globally 38 million people live with HIV, more than two-thirds live in Africa: Since the start of the epidemic in the 1980s 76 million people have become infected with HIV.Important advances have been made in recent years. In 2017 close to a million people died from AIDS related diseases, 50% fewer than at the height of the epidemic in 2004. In 2017, 2 million new HIV infections were recorded; that is 47% less than in 1996. The widespread availability of anti-retroviral (ARV) therapy over the past decade has made a dramatic difference in the survival and transmission rates. Following the global scale-up an estimated 59% of people living with HIV now receive ARV therapy. Together with its partners, UNAIDS has set a global goal for 2030: 95-95-95, which means the target is to diagnose 95% of all HIV-positive persons, provide ARV therapy for 95% of those diagnosed, and achieve viral suppression for 95% of those treated by 2020. .
Current ARV therapies involve life-long treatment with a minimum of 3 drugs. This is a challenge on the personal patient level, but also at the level of health systems. 
Médecins Sans Frontières (MSF) has been treating people infected with HIV since 2000. Alongside MSF, Epicentre has contributed by conducting research projects that demonstrate to the Ministries of Health, donors and the scientific community the feasibility of treating high number of patients in resource-limited settings. 
Speeding up access to test results, speeding up start of treatment.
Testing and Treatment
For years, Ndhiwa sub-county has had one of the highest HIV prevalence rates in Kenya and all of Africa. A 2012 Epicentre survey of MSF sites conducted pointed to the need to improve care in all aspects, which led in 2014 to the following changes:
raise awareness of the need to know one's HIV status,
maximizing the number of HIV-positive people on antiretroviral therapy (ART)
increase the number of people on ART with an undetectable viral load.
The goal was to reduce the rate of new infections and ultimately the presence of the virus in the population.
In 2018, Epicentre conducted a new survey called NHIPS 2 that included 6,020 people aged 15-59 years living in Ndhiwa sub-county (population 114,480). Comparing with the results of the 2021 survey, it was shown that
the overall HIV prevalence had decreased from 24% to 17%.
-over 90% of the population knew their HIV status
more than 90% of positive people are on treatment
More than 90% of patients on treatment are viral load free.
This survey highlights the effectiveness of the new screening approach that has been put in place, but also its benefits in terms of prevention. The principle is that when HIV treatment is effective, the viral load decreases so much that people can no longer transmit the virus. When applied to a large number of people, HIV treatment is then equivalent to HIV prevention.
Point of Care (POC) viral load monitoring in Malawi; Early Infant Diagnosis (EID) in Uganda
To reduce the number of new HIV infections early detection and the prescription of effective treatments is important, especially among HIV-infected mothers and their new-borns. In addition, it is important to monitor the treatments effectiveness; an ineffective treatment should be detected early so that the combination of drugs can be adjusted, i.e a switch to 2nd or 3rd line treatment. This detection is best not based on a sole clinical assessment of a patient's condition as this is often too late. The current gold standard tool to monitor the treatment effectiveness is to measure the HIV viral load. A suppressed viral load indicates that the regimen prescribed is working well and that virus cannot be transmitted.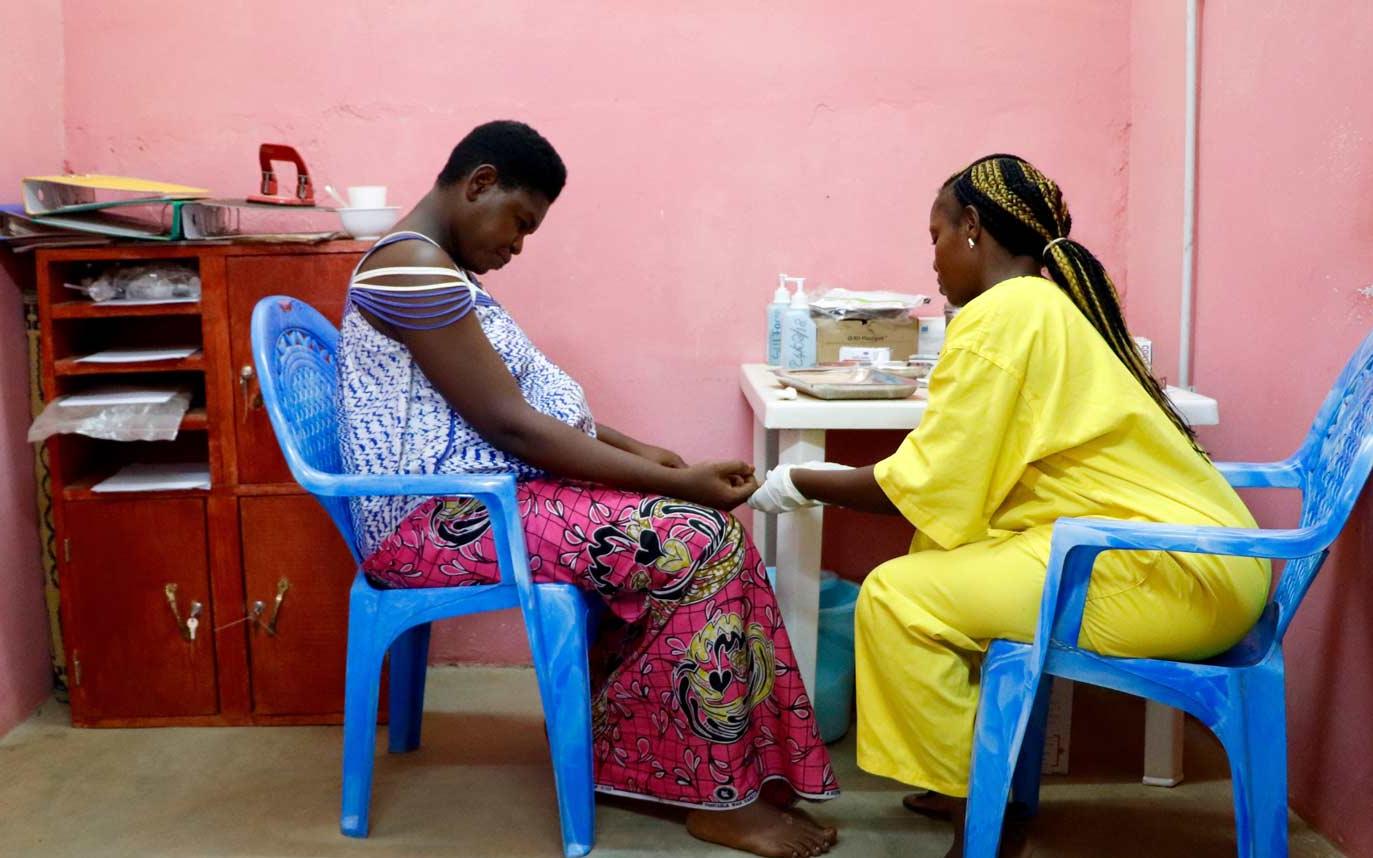 Measuring viral load involves complex equipment capable of performing so-called PCR tests, whereby copies of the virus can be quantified. Operating this equipment required high-level infrastructure and qualified technicians, which is why in low- and middle-income countries these are typically located in centralized laboratories. This is an impediment to rapid access to results for patients and clinicians alike.
In recent years, Point-Of-Care (POC) devices have been developed and are proving to be a good tool in settings where complex technology is not easy to implement. POC devices permit a same day result opposed to several weeks, sometimes months. This same day result allows prompt action, such as adherence counselling, switch to 2nd or 3rd line regimen. 
In Malawi and Uganda Epicentre has had research projects with SAMBA (Simple Amplification Based Assay), one such recent POC method that can detect and monitor early HIV infection in newborns exposed to HIV through their mothers during pregnancy. Early Infant Diagnosis (EID) test results can be made available within a day and treatment, such as ARV initiation, can be started promptly. Viral load measurement through this method also helps to monitor the effectiveness of the ART regimen so that adjustments can be made if necessary.
Directing patients to the optimal treatment regimen
Research into viral load and drug susceptibility testing (DST)
By measuring viral load, the effectiveness of ARV treatment can be assessed. If it becomes clear the patient's virus is resistant to the ARV regimen, and treatment is failing, it is essential to change the drug combination that make up the treatment, in part or in whole. However, in the settings where MSF works, the number of ARV drugs available is limited, and consequently, so are the number of combinations. Epicentre has conducted several cohort and cross-sectional studies that demonstrate the need for simpler and more accessible Drug Sensitivity Testing techniques to identify effective ARV drugs and providing the evidence base for MSF's advocacy on this issue and highlighting the difficulty of accessing in particular 3rd line ARV drugs.
Assessing treatment resistance
As of 2019, WHO recommends the use of dolutegravir or low-dose efavirenz for first-line treatment due to the emergence of HIV resistance to ARVs. 
Dolutegravir should be given with two nucleoside reverse transcriptase inhibitors (NRTIs) as first-line antiretroviral therapy. The previous first-line regimen consisted of one non-nucleoside reverse transcriptase inhibitor (NNRTI) molecule (primarily Efavirenz (EFV)) in combination with two NRTIs, Tenofovir (TDF) and Lamivudine.
A generic once-daily fixed-dose combination of tenofovir-lamivudine-dolutegravir (TLD) is now available in low- and middle-income countries. As a result, most sub-Saharan African countries have since adopted TLD as first-line treatment. One of the concerns surrounding this large-scale rollout is the lack of information on resistance to previously administered drugs in some patients. 
In Malawi, the Epicentre-coordinated EMEDT study is supporting this first-line switch. Between January to May 2019, 1928 participants were enrolled and started on TLD first-line: among these 1892 participants who had already been on NNRTI-based ART and 35 who initiated ART with TLD. Study participants are followed up for up to 18 months post TLD treatment start. The main outcome is HIV viral load suppression, specifically among participants who had non-suppressed VL and drug resistance at TLD start. 
In collaboration with MSF, Epicentre also studied ARV resistance in Mozambique, in the capital Maputo and in Tete, a more rural district in the north of the country, among treated patients, but also among so-called naive people, i.e., those who have never taken anti-HIV therapy or who are restarting ARV treatment after an interruption of more than 3 months.
As a result, less than 10% of patients in Maputo and about 16% in Tete are in virological failure. On the other hand, 90% of patients in virological failure have developed resistance to at least one of the most commonly used molecules during ARV treatment. And double resistance to Tenofovir/Lamivudine - two molecules prescribed in combination with Dolutegravir as a new first line treatment - affects more than half of the people in treatment failure.
These results confirm that switching to a first-line regimen based on dolutegravir should be accompanied by viral load assessment and resistance genotyping.
Another study conducted this time if the DRC and Kenya by Epicentre demonstrates the need to improve access to viral load testing and resistance genotyping in advanced HIV patients. In ¾ of the patients admitted to a hospital in Kinshasa and Homa Bay with advanced HIV, two of the three molecules of their antiretroviral therapy were found to be ineffective. A change in treatment should be considered at the first detection of elevated viremia in patients with CD4 counts ≤350 cells/ml or when the viral load is not available before hospital discharge for those with CD4 counts ≤100 cells/ml. These results have in fact contributed to the publication of new clinical guidelines for HIV prevention, treatment, and care from the WHO.
Improving adherence to treatment
Targeting particular age groups such as adolescents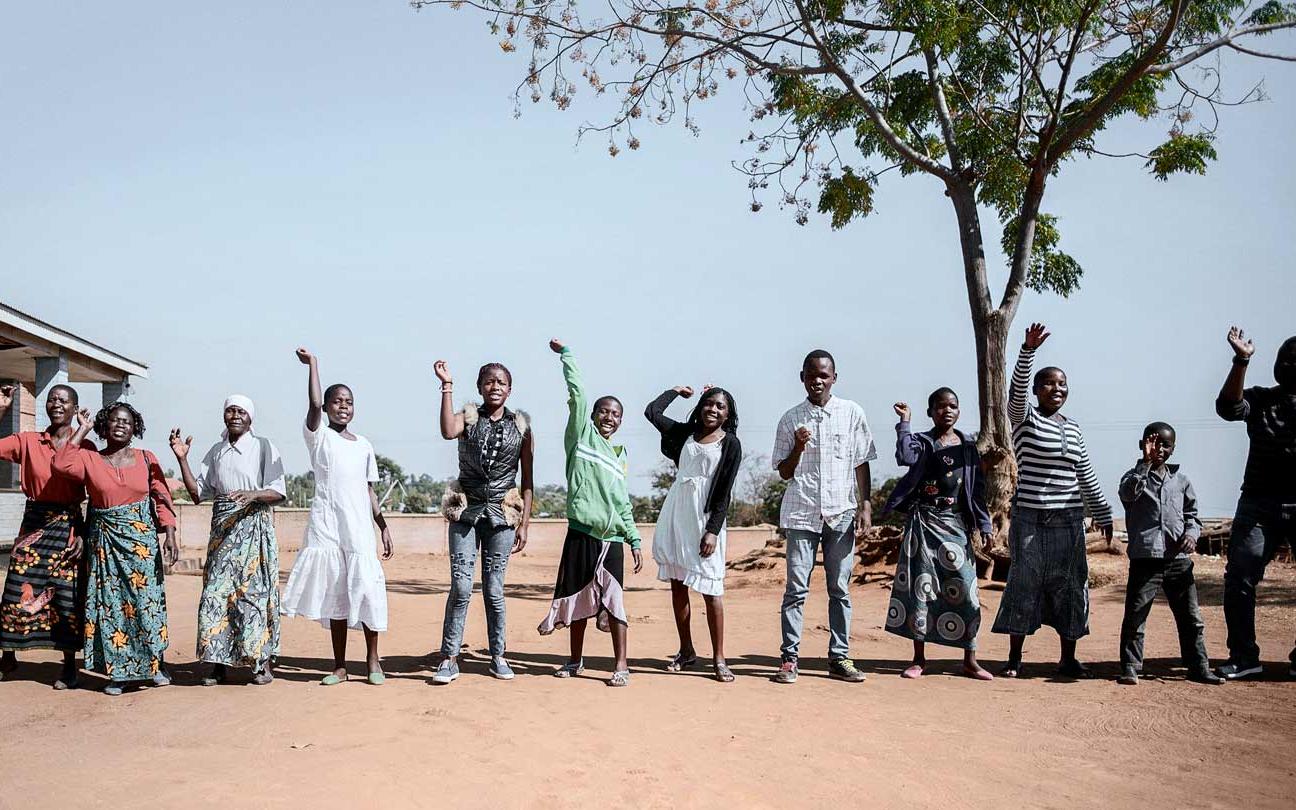 ARV therapy is a lifelong treatment consisting of at least 3 drugs and is sometimes accompanied by short and/ or long-term side effects. To avoid development and spread of drug-resistant HIV, it is crucial that patients strictly comply with the treatment requirements. This is why HIV management programs need to support patients, because, although patients understand the importance of regular treatment, it is often hard to continue to adhere to a treatment that can have such severe constraints. Epicentre conducted qualitative studies highlighting these constraints faced by patients. The focus has been particularly on adolescents for whom adherence is especially difficult and who are even more susceptible to wanting to avoid the social stigma of HIV and on long-term ART patients who may face similar and other difficulties. 
The aim is to reduce non-compliance that contributes to the emergence of drug-resistance requiring a switch to more expensive 2nd or 3rd line treatments, or, even worse run out of treatment options altogether. In recent years, MSF France has developed programs in three East African countries with three different approaches: in Uganda, MSF supports Arua regional reference hospital's AERT clinic; in Kenya and Malawi, interventions have been developed in rural districts, mainly at the health center level, but with a different approach. In Chiradzulu, MSF teams directly take care of the patients, while in Kenya's Ndiwa district, teams work in mentoring the Ministry of Health teams.
Epicentre is evaluating the effectiveness of these three models of care in improving treatment outcomes for adolescents aged 10-19 years living with HIV.
Adapting to lifestyles
An HIV population sero-prevalence survey conducted in 2016 by Epicentre in fishing communities surrounding Lake George and Lake Edward, in western Uganda showed a high awareness of HIV and Anti-retroviral Treatment (ART) initiation, at 86% and 78% respectively. However, viral suppression rate was at 67% among HIV-infected individuals on ART. It has been suggested that the mobile nature of the fishermen and limited access to ART sites are two major barriers to achieve viral suppression.
MSF has therefore implemented two less burdensome modes of treatment delivery: one where fishermen collect their drugs from the pharmacy without going through the normal clinical flow, including a doctor's review, and one where a fisherman who changes each time collects the medicines for the entire community. Epicentre is evaluating its two delivery modes in order to document best practices and establish possible recommendations.
Assessing Cascade of Care
Population level studies on prevalence and incidence
Epicentre has conducted population level studies to assess ART programs after several years. Several questions can be addressed with such studies: HIV prevalence and incidence, level of awareness HIV status of the population, linkage to care, viral load suppression at population level. These are key indicators to assess the so-called cascade of care. Progress can be measured of the different steps in HIV treatment and care, gaps can be identified, and goals can be formulated.
In some cases Epicentre has been able to conduct surveys before and after an MSF intervention so that results can be measured.