COVID-19: First Evaluation of Rapid Diagnostic Tests in resource-limited Environment Demonstrates Good Sensitivity
Tuesday 30 March 2021
Introduction
Faced with logistical difficulties associated with PCR tests, the gold standard for diagnosing COVID-19 cases, MSF, the Cameroon Ministry of Public Health, and Epicentre are showing that rapid serological and antigenic tests are a reliable and easier alternative to deploy in resource-limited Environment to enable early case management and limit the spread of the pandemic. Yap Boum, Epicentre's representative in Africa, explains.
Corps éditorial
How did this study on Rapid diagnostic tests involving the Cameroon Ministry of Public Health, MSF and Epicentre come about?
Yap Boum: At the beginning of the COVID-19 pandemic, only two laboratories - one in Senegal and one in South Africa - had the capacity to perform the "gold standard" test for COVID-19: RT-PCR. These tests, which detect the virus' RNA from a nasopharyngeal swab, require the use of a molecular biology laboratory. It was therefore necessary to set up alternatives to these molecular biology laboratories, which are too complex to develop in sufficient numbers, everywhere and urgently on the African continent. With MSF and the Cameroon Ministry of Public Health, we launched a study to evaluate the performance of five rapid diagnostic tests - four based on antibody testing and one on antigen detection - to detect SARS-CoV-2 infection in the community in Cameroon. At the time this study began, no studies of rapid diagnostic tests in Africa had been published, and this remains the case.
How do these tests work?
YB: The serological tests are based on the detection of IgG or IgM antibodies, which are immune system proteins produced in response to SARSCoV-2 infection. They therefore indicate from a blood sample whether a person has been infected with the virus. Antigenic tests look for a fragment of the virus protein in nasopharyngeal swabs and therefore detect people who are carriers of the virus at the time of the test.
In this prospective, diagnostic, clinical study, we enrolled 1195 persons at least 21 years of age who were either symptomatic and suspected of having COVID-19 or asymptomatic and presenting for screening.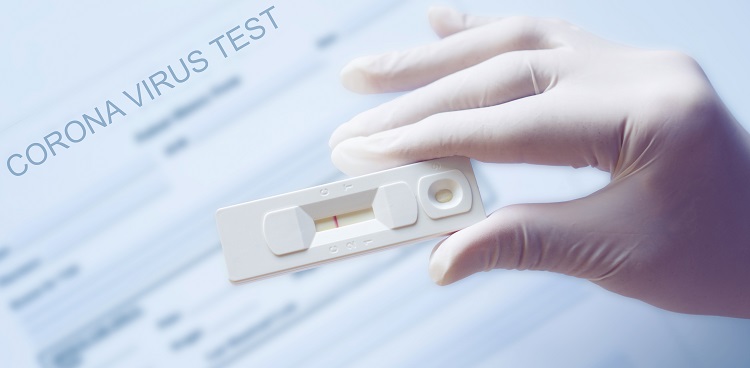 What were the results?
YB: The rapid antigen test detected 80% of symptomatic individuals who tested positive for PCR within the first 7 days. Rapid antigenic tests do not amplify the virus in the samples, so the positivity of this test varies according to the viral load. It therefore makes it possible to identify people with a high viral load and therefore at high risk of either developing a severe form or of transmitting the virus.
As for the serological tests, they detected 7 out of 10 people who had been exposed to the virus two weeks after the symptoms. This is a very good indicator of how the virus is spreading in the communities.
How were these rapid tests integrated into the monitoring of the pandemic?
YB. We presented preliminary data in June 2020 to the Ministry of Public Health in Cameroon. Based on these initial results, Cameroon validated a national screening algorithm for COVID-19 and began using the rapid diagnostic tests on July 12, 2020. Of the 600,000 rapid diagnostic tests performed by December 2020, 10,793 positive cases out of 26,848 reported in the country, or 40%, have been diagnosed.
The use of rapid tests accelerates the diagnosis of people and thus, if necessary, their isolation and care. It is now one of the pillars of the screening strategy in Cameroon and in the world. They can be carried out in a decentralized and mobile manner in public places and are therefore perfectly adapted to low-resource environments. Their use in self-testing has recently been validated in the UK and soon in European countries.
Only symptomatic people with a negative test are referred for PCR, thus reducing their numbers. Even though Cameroon now has 17 laboratories that can perform PCR tests for SARS-CoV-2, this is still not enough to meet the growing demand, especially in this second wave period with the different variants circulating in Cameroon. And even if the person cannot be referred for a PCR test, she can return to her community more serenely since she has a low viral load and less risk of transmitting the virus
Given the results observed in Cameroon, these tests have since been rapidly integrated as a key tool in the fight against COVID-19 in other countries.
This study also illustrates the need to develop research that is adapted to the challenges and needs of different environments, especially in countries where resources are limited. 
Read the publications
Performance and operational feasibility of antigen and antibody rapid diagnostic tests for COVID-19 in symptomatic and asymptomatic patients in Cameroon: a clinical, prospective, diagnostic accuracy study.
Africa needs local solutions to face the COVID-19 pandemic.
Journal Reference:
Lancet (London, England) 2021 Mar 24; . doi: 10.1016/S0140-6736(21)00719-4. Epub 2021 03 24
See all