Simplified, decentralized, but effective hepatitis C management
Monday 26 July 2021
Introduction
Epidemiology has shown that simplified, decentralized hepatitis C care can be integrated into public and rural health services in resource-limited settings, while maintaining high rates of patient follow-up, treatment efficacy and safety. This proof-of-concept by Médecins Sans Frontières (MSF) and Epicentre in Cambodia, where a parallel hepatitis C virus (HCV) seroprevalence study was conducted, therefore supports the extension of this model of care to other countries or regions.
Corps éditorial
Hepatitis C occurs as a result of infection with HCV, which is transmitted mainly through the bloodstream. The disease can remain silent for many years. If not diagnosed and treated in time, it can lead to cirrhosis (scarring of the liver) and even liver cancer. Today, there are combinations of direct-acting antivirals (DAAs) that block the replication of the virus and are over 95 per cent effective in the general population. As part of a program with the Cambodian Ministry of Health, MSF has set up a hepatitis C screening and treatment program first in Phnom Penh and then in Battambang province.
Evaluate the incidence to define adapted programs
Epicentre epidemiologist Emily Lynch also conducted a study in this rural northwestern province of Cambodia to assess the rate of HCV infection and risk factors. She looked for signs of the virus in 5,098 people in 3,616 households. Antibodies indicating the presence of the virus were detected in 2.6 per cent of people over 18 years of age and in 5.1 per cent of those over 45 years of age.
It was the first study of this magnitude in Cambodia. The survey showed that HCV seroprevalence increases with age and is inversely proportional to education level. This particularly high HCV seroprevalence among people over 45 years of age is most likely the result of medical care such as injections, surgery, blood donation and transfusion, or dental care before wider access to disposable medical equipment. This study also shows screening programs need to target people over 45 years of age.
A proven, simplified model of care
In Cambodia, 76 per cent of people live in rural areas with limited access to medical care. Existing health centers provide primary healthcare, most often by nursing staff. From 2016 to 2018, Médecins Sans Frontières (MSF), working with staff at the government-run Preah Kossamak Hospital in Phnom Penh, set up a simplified model of care for people with HCV.
"This model is based on the use of rapid diagnostic tests, fewer follow-up visits and biological tests, and the transfer of many clinical tasks from physicians to nurses and pharmacists," says Mickael Le Paih, MSF's head of mission in Cambodia.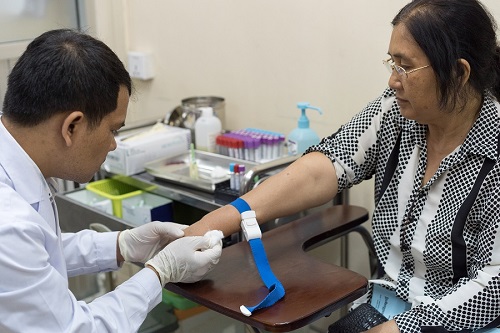 This model, which had a priori never been used elsewhere, was then evaluated by Meiwen Zhang, an epidemiologist at Epicentre, to determine its effectiveness. Of the 540 HCV patients followed up between March 2018 and January 2019, 98.7 per cent received an initial medical consultation. Of these, 530 people started DAA treatment at a health center (for 485 of them and at a referral hospital, for the other 45). Care at the community health centers was provided by nurses. A total of 466 patients completed treatment, with a sufficiently low viral load in 98.5 per cent of patients that they were considered cured.
The epidemiological analysis showed the highly simplified and decentralized model of care developed by MSF in a public and rural health system can ensure good patient follow-up without compromising the effectiveness and safety of treatment.
"We are confident that this model can be replicated in other resource-limited settings to improve access to care for people with HCV. Its model should help reduce the barriers to care for the estimated 58 million people* living with HCV worldwide, and thus contribute to reducing the impact of hepatitis C," says Le Paih.

 
Photo credit : ToddBrown
* http://apps.who.int/iris/bitstream/handle/10665/342808/9789240030985-eng.pdf.
Lire les publications
Decentralised hepatitis C testing and treatment in rural Cambodia: evaluation of a simplified service model integrated in an existing public health system.
Journal Reference:
Lancet Gastroenterol Hepatol 2021 Published Online March 18, 2021. doi.org/10.1016/S2468-1253(21)00012-1
Hepatitis C viraemic and seroprevalence and risk factors for positivity in Northwest Cambodia: a household cross-sectional serosurvey.
Journal Reference:
BMC infectious diseases 2021 Feb 26; 21(1); 223. doi: 10.1186/s12879-021-05826-0. Epub 2021 02 26
See all